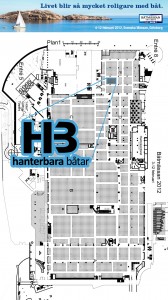 Fred Boats (Hanterbara Båtar in Swedish) will be at the Gothenburg Boat Show in Showcase E02:02. Click on the map for a larger version.
Welcome!
Please read more about the fair;
Here at The Swedish Exhibition & Congress Centre we can certainly say which way the winds are blowing. It's set fair for the Gothenburg Boat Show, with more exhibitors, more visitors and more purchases being made. The 2011 not only meant more Business, the Show also attracted more coverage from the press and mass media. More visitors mean more customers. And more customers mean satisfied exhibitors.
With the wind set fair, planning for Scandinavia's first Boat Show of the new year is even more of a pleasure, and we're aiming to add more activities with a view to attracting even more members of the public. Nine out of every ten visitors is an incipient salt. There's nothing wrong with this male predominance, but we´d like to see more womenfolk among them. And more children and young people too, because they'll be the boat owners of the future.
As you can see, we at The Swedish Exhibition & Congress Centre are planning a Boat Show in 2012 that will be filled to the brim with exhibits and with many, many visitors who have come to see for them selves. We can tell you now that 90 % of the visitors from the 2011 show plan to be among them.
The wind's set fair for Gothenburg. And the voyage will be worth your while. So we look forward to seeing you here.
Best regards
Bengt Wallin
Project Manager
Opening hours
Saturday – Sunday 4 – 5 february 10.00 -18.00
Monday – Thursday 6 – 9 february 12.00 – 20.00
Friday – Sunday 10 – 12 february 10.00 – 18.00